I've committed to making 1,000 videos on TikTok in 2023.
Why?
One core concept leads the way.
'Mastery' – detailed in Robert Greene's book. The idea is that there is MAJOR POWER in focusing on a single skill or craft and developing it to its fullest potential. Greene emphasizes the importance of discipline and dedication to the process. Mastery is not an end goal; it is a flywheel! And it does need to be sought in a space that you are both passionate about, and somewhat talented at.
I've told the story before about how I was in the National Cadet Corps, the youth wing of the Indian Armed Forces, and the lessons it's taught me about discipline are invaluable. I often find myself craving that type of 'boot-camp disciple' and 'sprints' when it's time to uplevel a skill or craft.
Why video mastery in 2023?
The craft in question right now is making videos. (Except on cr@ck!)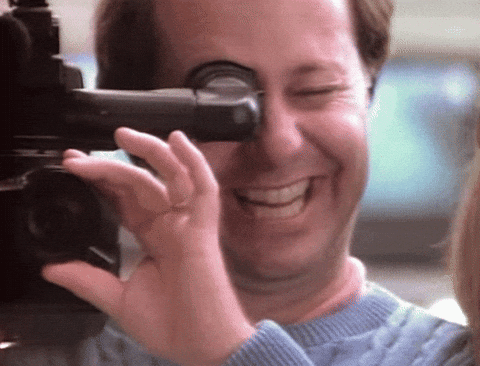 Video has always worked for me.
From the first time in 2015, when I pointed my phone at myself, and recorded a 2 minute video, which I spent 4 hours editing… video worked for me. 
It's been 8 years. And I can't stress enough how much video creation has been democratized. Back then, I committed to consistently making videos, and paying professionals for execution. I remember I would put together a whole batch production day. 2-3 people would help me shoot these videos. I would stress out and prepare for 1.5 days so I could get eight videos done at one shot on shoot day.
It was terrifying.
And oddly exhilarating.
Like I said, video worked for me; so I kept doing it.
Along the way, starting a podcast made pulling snippets from the recording non-negotiable for us as a content marketing firm.
So, video got a sh!t ton easier. 
Then everyone and his dog started employing that content play. As a content marketer, I wanted to play with new toys! To discover enhanced skills, and get back into video making hands on once again. 
Enter TikTok.
Early in 2022, I started posting videos there with no clear plan in mind. It was fun once I leaned into "the cringe". 
I realized quite quickly that some of my best ideas came from there. And they did EXCEEDINGLY well particularly when I repurposed them on LinkedIn, our emails, and blog articles. 
My content got sharper, and it gained engagement, but I still lag abysmally on the following. 
Enter the tried and tested principles of 'mastery', which I am recommitting to.
Why TikTok and not a different video platform?
I picked TikTok because it takes video to the next level (yes in a way that Instagram reels and YouTube shorts never will). 
Why?
It has an addictive quality that invites creation; not just sitting on the sidelines.

It validates and celebrates low production value (yesterday I shot a batch of videos while playing with my puppy who seemed to think my tripod was a chew toy. He's in a bunch of the videos 😂which only adds to the value) 

It prioritizes entertainment so it forces you to be your most UNboring self

It's possible to build incredibly large and committed audiences via TikTok. One of the reasons why that happens is because it rewards consistency (in addition to creativity)
And those factors sound like someone is reading out a list of my strengths 💪
So, TikTok it is. Plus I'm Canadian, so no one is yanking the TikTok rug from under my feet JUST YET 😂
Why 1,000 videos?
1,000 videos…
I'm nothing if not EXTRA 😁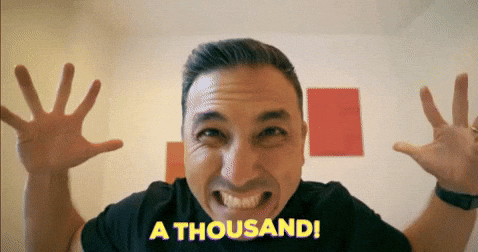 But seriously, the fact is doing "a video a day on business days" isn't quite cutting it for establishing patterns at scale.
I had to step it up.
Initially, I planned to do a 60-day "content acceleration sprint", where I would put together three to four videos a day for 2 months to see what happens. This was prompted by the fact that regardless of the degree of the value you deliver in your videos on TikTok, until you have 1,000 followers, it won't scale for you. 
And I'm at a lowly 260.
I wish to change that to keep having fun while I learn.
What am I posting to focus on quality (despite the INSANE quantity)?
My guiding principle is to fanatically focus on my audience. Startup founders, women entrepreneurs, and content marketers.
To reach them, I post core original "work" stuff that relates to:
Content marketing

Writing

Podcasting

Building a voice

Thought leadership process

Marketing news commentary (this serves my 'newsjacking' efforts and offers more likelihood of "baby virality" by reaching large audiences)

UNboring marketing examples (the theme of my book)
In addition to new ideas, here are other things I post on TikTok.
Repurposed material that I have created in other places that have done really well. (think blog articles, snippets of behind the scenes from podcast recordings) 

Good ideas that didn't get as much play the first time around

My fun side and personal life (

food/puppy/tween/Toronto

– that's the 4 points of the box I stay loosely inside of) 

Curated content from other people via 'duets' and 'stitches' to showcase perspectives beyond my own
The business case for testing content at scale
Ok why should you care?
For this type of scale from the perspective of any founder, or agency owner, your business case is this: you're going to be producing content to test ideas at scale. While as a content marketing firm, we produce huge volumes, we're rarely doing it for one person. The learnings will be IMMENSE. And the learning curve will be WAY shorter. 
Hence I'm committing to this loft goal 💁‍♀️
It's going to be fun;
so follow along if you stayed this long into this piece of writing!
Also, think about how video can be a bigger part of your marketing mix. Because 8 years in for me personally, there's never been a moment where a video hasn't provided ROI in buckets (and I cannot wait to see how that scales!)
I'll share some early learnings in a couple of weeks from doing 100+ TikTok videos already this year!
Be a part of a community that committed to MASTERY
Inside of the Marketing Brain Trust, you'll find my signature program designed to help women and non-binary entrepreneurs step off the hamster wheel of constantly launching campaigns and build a powerful outbound strategy that leverages your voice. 
💻You'll find the information (and application) on this page: https://cp.digital/marketing-brain-trust/ 
Come join an incredible group of fellow entrepreneurs!
This program is insanely fun, and will land 5-figures+ into your bottom-line from stuff you're not thinking about just yet just from ideas and solutions within the group. That I can promise 😊 I've seen it in action.