Artificial intelligence promises to transform marketing, yet founder-led brands and SMEs eager to implement AI often find themselves lost in theoretical content. Articles outlining AI capabilities far outnumber practical guides on execution.
This scarcity of tactical, applied AI knowledge is a detail worth noting for founders ready to leverage AI to maximize revenue.
Why you should pay attention to AI literacy delivered in podcast format  
Podcasts remain a surprising under-indexed marketing format. In fact, over 60% of all podcasts publish less than 7 episodes before fading into oblivion. Getting to 50 episodes puts podcasters in the top 1% (of audio content producers). It's a good idea to pick the early adopters who choose to stand out by working in a blue ocean, not a red ocean, when it comes to creating AI literacy that finds its audience with less clutter.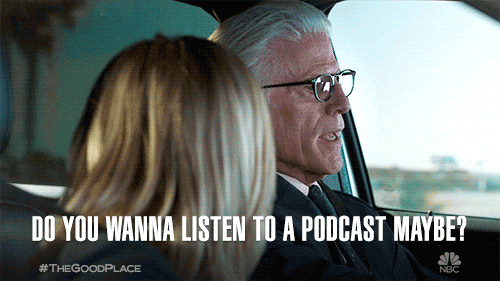 With a majority of small businesses overwhelmed by options when it comes to AI tools that can help them, the format and track record of your instuctors matter more than ever. Podcasts that deliver unique, high-quality AI-focused content can provide the tactical "how-to" missing in most materials. By committing to in-depth, consistent episodes, these niche podcasts become a goldmine of practical insights on using AI for small business marketing. The longer-form, conversational format also allows much needed space to work through real listener challenges and use cases. Rather than slog through vague AI speculation, founder-led brands must seek out enduring podcasts delivering strategic AI marketing training. 
Here are 5 top-notch, consistent AI marketing podcasts to add to your playlist right now:
Hosts: Paul Roetzer and Mike Kaput
What makes it interesting: As AI experts, the hosts make the complex understandable through simple explanations and real marketing examples.
Why you should make time to listen: The creators of the Marketing AI Institute explain complex AI in simple terms along with real examples to make the tech actionable for marketers.
Home: Cleveland, Ohio
Host: Laura Meyer
What makes this AI for marketing podcast interesting: Laura draws on her extensive marketing experience to provide immediately actionable AI insights.
Why you should make time to listen: With 20+ years of mymedic.es marketing experience, Laura Meyer provides valuable AI insights you can immediately implement to enhance your strategy.
Home: Chadds Ford, Pennsylvania
3) Artificially intelligent marketing podcast
Hosts: Paul Avery and Martin Broadhurst
What makes this AI for marketing podcast interesting: The hosts have in-depth conversations exploring AI and marketing from various angles.
Why you should make time to listen: The hosts explore AI's marketing potential through interviews, use cases, and their own experiences at the intersection of AI and marketing.
Home: Derby, United Kingdom
Host: Susan Diaz
What makes this AI for marketing podcast interesting: Susan is the author of 'UNboring' on content marketing and brings fun into AI literacy to make it non-threatening for non-tech founders.
Why you should make time to listen: Susan offers founders bite-sized AI micro-lessons and strategies to drive exponential business growth and get ahead of competitors.
Home: Toronto, Canada
5) Unprompted: AI, Marketing and You
Hosts: Multiple (Unbounce's company podcast)
What makes this AI for marketing podcast interesting: The show takes a balanced view of AI marketing separate from the hype.
Why you should make time to listen: The balanced perspective separates AI marketing facts from hype so you gain clarity on legitimate applications. 
Home: Vancouver, Canada
Committing to a quality niche podcast will provide founders ready to ride the AI wave with applied knowledge unavailable elsewhere. Find time for one! 
Hands-on Approach to AI execution
Ready for a more hands on approach to the practical guides for AI execution I mentioned earlier? Look no further. Next month I'm opening spots in my coveted Marketing Power Circle. 
Join an intimate group of founder-led brands as they mastermind together to harness the power of AI, buy back their time and spend their days driving growth and revenue vs driving themselves crazy with operations admin. I designed this one of a kind high value, low obligation mastermind for you! 
If you're ready to introduce AI into your business in a safe and supportive environment we should chat. 
Next week I'll be opening spots up to the public.
Book a 20 minute discovery call to see if MPC is a fit for you